XTRA FACTORS
XF 101B Pasture Mineral
B-1440
"Medicated

For increased rate of weight gain in pasture cattle.(Slaughter, stocker , feeder cattle and dairy and beef replacement heifers.)

ACTIVE DRUG INGREDIENT
Lasalocid 1440 g/ton
Guaranteed Analysis:
Calcium (Ca), min 13.00%
Calcium (Ca), max 14.5%
Phosphorus (P), min 7.00%
Salt (NaCl), min 19.00%
Salt (NaCl), max 21.00%
Magnesium (Mg), min 1.50%
Potassium (K), min 2.00%
Copper (Cu), min 600 ppm
Iodine (I), min 70 ppm
Selenium (Se), min 1 ppm
Vitamin A, IU/lb, min 200,000
Vitamin D3, IU/lb, min 20,000
INGREDIENTS:
Dicalcium Phosphate, Calcium Carbonate, Salt, Plant Protein Products, Molasses Products, Roughage Products, Processed Grains By-Products, Potassium Chloride, Magnesium Oxide, Magnesium Sulfate, Potassium Sulfate, Vitamin D3, Vitamin E Supplement, Vitamin A Acetate (stability improved), Zinc Sulfate, Copper Sulfate, Ferrous Carbonate, Zinc Oxide, Manganese Sulfate, Manganous Oxide, Cobalt Carbonate, Iron Amino Acid Complex, Ethylenediamine Dihydriodide, Zinc Amino Acid Complex, Manganese Amino Acid Complex, Copper Amino acid Complex, Sodium Selenite, Cobalt Glucoheptonate, Mineral Oil.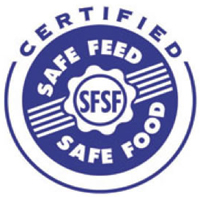 FEEDING DIRECTIONS:
Feed 0.25 lbs (4 oz) per head per day to provide 180mg ofLasalocid per head per day. This product must be mixed into 1 lb. of other feed and fed daily to provide 60 to 200 mg/hd per day of Lasalocid.
CAUTION:
Follow label directions. The addition to feeds of higher levels of this product containing selenium is not permitted. Do not allow horses or other equines access to formulations containing lasalocid. Ingestion of lasalocid by equines could be fatal. Feeding undiluted or mixing errors may result in an excess lasalosid concentration, which could be fatal to cattle and sheep. Safety of lasalocid for use in unapproved species has not been established. CONTAINS HIGH LEVELS OF COPPER: DO NOT FEED TO SHEEP.
WARNING: A withdrawl period has not been established for pre-ruminating cattle. Do not use in calves to be processed for veal.
Manufactured by:
XF Enterprises, Inc.
Xtra Factors
211 Pedigo Drive
Pratt, Ks 67124
620-672-5616