XTRA FACTORS
XF 102 Cow Mineral
"For Beef Cattle on Pasture"

Guaranteed Analysis:
Calcium (Ca), min 12.50%
Calcium (Ca), max 14.50%
Phosphorus (P), min 7.00%
Salt (NaCl), min 19.00%
Salt (NaCl), max 21.00%
Magnesium (Mg), min 1.50%
Potassium (K), min 2.00%
Copper (Cu), min 1000 ppm
Iodine (I), min 100 ppm
Selenium (Se), min 24 ppm
Zinc (Zn), min 2750 ppm
Vitamin A, IU/lb, min 200,000
Vitamin D3, IU/lb, min 20,000
INGREDIENTS:
Dicalcium Phosphate, Monocalcium Phosphate, Calcium Carbonate, Salt, Plant Protein Products, Molasses Products, Roughage Products, Processed Grains By-Products, Potassium Chloride, Magnesium Oxide, Magnesium Sulfate, Potassium Sulfate, Vitamin D3, Vitamin E Supplement, Vitamin A Acetate (stability improved), Zinc Sulfate, Copper Sulfate, Zinc Oxide, Ferrous Sulfate, Manganese Sulfate, Manganous Oxide, Zinc Amino Acid Complex, Copper Amino Acid Complex, Ethylenediamine Dihydriodide, Manganese Amino Acid Complex, Cobalt Carbonate, Iron Amino Acid Complex, Cobalt Glucoheptonate, Mineral Oil, Sodium Selenite.

Recommended Use:
Feed free choice to Beef Cattle on pasture on a continuous basis in covered feeder.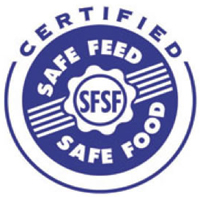 Manufactured by:
XF Enterprises, Inc.
Xtra Factors
211 Pedigo Drive
Pratt, Ks 67124
620-672-5616
Code 102   3-18-08   Lot No on Bag
3196 P147120

NOTICE: This product contains no prohibited animal by-products in accordance with FDA Regulation 21 CFR 589.2000. This manufacturing facility does not handle, store or use any prohibited animal by-products.
Net Weight 50 lbs. (22.7 Kg)