XTRA FACTORS
XF 104 Summer
Cow Mineral
"For Beef Cattle on Pasture"

Guaranteed Analysis:
Calcium (Ca), min 13.50%
Calcium (Ca), max 15.50%
Phosphorus (P), min 4.00%
Salt (NaCl), min 33.50%
Salt (NaCl), max 35.50%
Magnesium (Mg), min 2.00%
Potassium (K), min 0.20%
Copper (Cu), min 1200 ppm
Iodine (I), min 110 ppm
Selenium (Se), min 24 ppm
Zinc (Zn), min 3000 ppm
Vitamin A, IU/lb, min 140,000
Vitamin D3, IU/lb, min 10,000
Vitamin E. IU/lb, min 50

INGREDIENTS:
Salt, Calcium Carbonate, Dicalcium Phosphate, Monocalcium Phosphate, Plant Protein Products, Magnesium Oxide, Molasses Products, Manganese Sulfate, Zinc Oxide, Copper Chloride, Sodium Selenite, Vitamin A Acetate (stability improved), Artificial Flavor, Vitamin E Supplement, Ethylenediamine Dihydriodide, Cobalt Carbonate, Vitamin D3.

Recommended Use:
Feed free choice to Beef Cattle on pasture on a continuous basis in covered mineral feeder.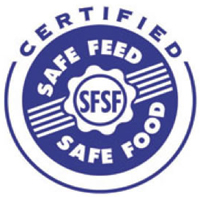 Manufactured by:
XF Enterprises, Inc.
Xtra Factors
211 Pedigo Drive
Pratt, Ks 67124
620-672-5616
Code 104

NOTICE: This product contains no prohibited animal by-products in accordance with FDA Regulation 21 CFR 589.2000. This manufacturing facility does not handle, store or use any prohibited animal by-products.
Net Weight 50 lbs. (22.7 Kg)