XTRA FACTORS
XF 104A
SUMMER MINERAL
MEDICATED
For beef cattle weighing over 700 lb:
Control of active infection of anaplasmosis caused by Anaplasmosis marginale susceptible to chlortetracycline."
ACTIVE DRUG INGREDIENT
Chlortetracycline 4400 g/ton
Guaranteed Analysis:
Calcium (Ca), min 13.00%
Calcium (Ca), max 15.00%
Phosphorus (P), min 4.00%
Salt (NaCl), min 33.50%
Salt (NaCl), max 35.50%
Copper (Cu), min 1100 ppm
Selenium (Se), min 23 ppm
Zinc (Zn), min 3000 ppm
Iodine (I), min 110 ppm
Vitamin A, IU/lb, min 140,000
Vitamin E, IU/ lb, min 50

INGREDIENTS:
Salt, Calcium Carbonate, Dicalcium Phosphate, Monocalcium Phosphate, Plant Protein Products, Magnesium Oxide, Molasses Products, Manganese Sulfate, Zinc Oxide, Copper Chloride, Sodium Selenite, Vitamin A Acetate (stability improved), Artificial Flavor, Vitamin E Supplement, Ethylenediamine Dihydriodide, Cobalt Carbonate, Vitamin D3.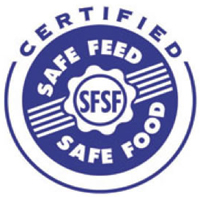 Feeding Directions
Feed to cattle on grass pasture weighing 800 to 1200 lb to provide 0.5 mg chlortetracycline per lb body weight daily. Feed at the rates shown below:

Pounds of
Body Weight

Pounds of mineral
per head per day

800

.1818

900

.2045

1000

.2273

1100

.2500

1200

.2727
CAUTION:
Follow label directions. The addition to feeds of higher levels of this product containing selenium is not permitted.

WARNING:
A withdrawal time has not been established for this product in pre-ruminating calves. Do not use in calves to be processed for veal.

WARNING:
Zero day withdrawal period
104A

NOTICE: This product contains no prohibited animal by-products in accordance with FDA Regulation 21 CFR 589.2000. This manufacturing facility does not handle, store or use any prohibited animal by-products.

Manufactured by:
XF Enterprises, Inc
Xtra Factors
211 Pedigo Drive
Pratt, Ks 67124
Net Weight 50 lbs. (22.7 Kg)