XTRA FACTORS
12-12-12 MINERAL
For Beef Cattle
Guaranteed Analysis:

Calcium (Ca), min

11.00%

Calcium (Ca), max

13.00%

Phosphorus (P), min

12.00%

Salt (NaCl), min

11.00%

Salt (NaCl), max

13.00%

Magnesium (Mg), min

1.00%

Potassium (K), min

0.25%

Copper (Cu), min

1000 ppm

Selenium (Se), min

20 ppm

Zinc (Zn), min

3000 ppm

Vitamin A, IU/lb min

200,000
Recommended Use: Feed free choice to beef cattle. Expected consumption 2 to 4 ounces per head per day.
Manufactured by: XF Enterprises, Inc. Xtra Factors 211 Pedigo Drive Pratt, Ks 67124 620-672-5616 Code #87 3-18-09 Lot No. on Bag 3145 P147112
NOTICE: This product contains no prohibited animal by-products in accordance with FDA Regulation 21 CFR 589.2000. This manufacturing facility does not handle, store or use any prohibited animal by-products.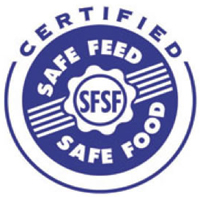 50 lbs. Net Weight (22.7Kg.)